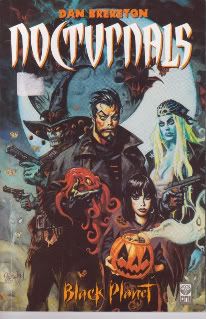 Nocturnals: Black Planet by Dan Brereton
Dan Brereton creates a world of gene-crafted humanoid animals, android-hired torpedos, and supernatural pulp heroes. The Nocturnals are led by Doc Horror of the heroic cursed genius and two-fisted guns variety. He fights the evil of the Narn K Corporation and the alien Crim with his crew of undead gunsels, freed hybrids, and pyschics.
Brereton's signature painted style brings out the best for his post-dusk setting. Lots of shadows and moonlit settings. Brereton crafts an excellent mash-up of scifi, Lovecraftian and gangster tropes into a pulp noir story.