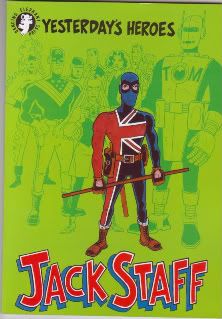 Jack Staff: Yesterday's Heroes written and drawn by Paul Grist
The world of Jack Staff is one of super-heroes, vampires, reports, and maverick cops. Named Maveryk. This collection of the first four indy press issues takes Britain's greatest hero, Jack Staff, from a fight in the 1940s alongside the Freedom Fighters to a series of vampire attacks in the modern day.
This collection presents the first issues of one of the best—and sometimes oddest—super-hero books on the stands. While this edition is now out of print, it is collected as part of Image's Jack Staff: Everything Used to be Black and White. Still theres something enjoyable about lucking into earlier editions. But whatever collected version or single issues, Jack Staff is one of best and most enjoyable comics out there.