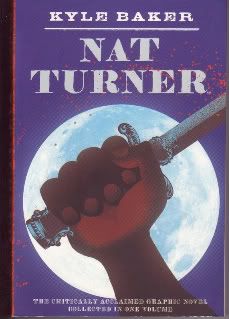 Nat Turner by Kyle Baker
On August 21st, 1831 Nat Turner led a slave revolution in Southhampton County, Virginia. He and his followers executed fifty-five people, many of them children before being stopped. Turner himself was captured, tried, and executed. He was hung, beheaded, and skinned.
I've been meaning to review this book for months now, but kept putting it off. I'm not the right person to judge Turner or his actions. I can just say that the book makes me uncomfortable. Which is good. Kyle Baker tells a mostly dialogue-less story that challenges the reader. It doesn't try to hide anything. And while it's far from being a "fun" book, it is an important one. Like Spiegleman's Maus, Nat Turner pushes the field of comics.