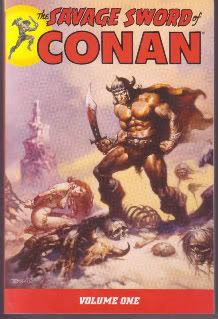 The Savage Sword of Conan: Vol. 1 written by Roy Thomas, art by various
By Crom! Fifteen tales of the Cimmerian adventurer! Fifteen tales of blood and glory and women and danger! Valeria of the flashing blade! Red Sonja of the fearsome temper! The art of Barry Windsor-Smith, John Buscema, Jim Starlin, Walter Simonson and more! Fifteen thrilling tales of Conan, filled with strange beasts, dark magics and conquest!
Who would dare pass up this opportunity? Only a fool!
CROOOOOOOOM!