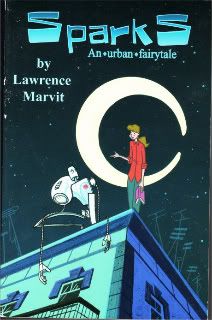 Sparks: An urban fairy tale by Lawrence Marvit
Jo is a lonely auto mechanic. She lives at home with her drunken cop father and zoned out mother. And one day she builds..well not a robot. More the shell of one. And that night a lightning strike brings him to life. Jo eventually names him Galahad and he becomes her closest friend. Even as she struggles to fit in and make friends with other people. But even an artificial man can love.
Or its the story of a beautiful princess trapped by a wicked king and the brave knight who will do anything to save her.
Or maybe both…